Isabelle Faust – Viool
22 december 2017
Isabelle Faust makes another exciting foray into the 20th-century repertory (…) Her sound has passion, grit and electricity but also a disarming warmth and sweetness that can unveil the music´s hidden strains of lyricism. (New York Times)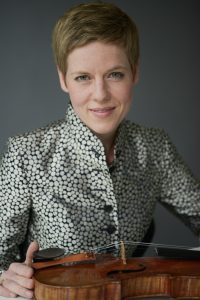 Na voltooiing van haar studie bij Christoph Poppen en Dénes Zsigmondy kreeg Isabelle Faust al op jonge leeftijd internationale erkenning door het winnen van het Leopold Mozart Concours in Augsburg in 1987. Vervolgens won ze in 1993 de eerste prijs op het Paganini Concours in Genua en ontving ze in 1997 de begeerde Gramophone Young Artist of the Year Award.
Sindsdien heeft ze opgetreden met de meeste grote internationale orkesten en beroemde dirigenten. Recentelijk werkte ze als soliste samen met de Berliner Philharmoniker, de Münchener Philharmoniker, Orchestre de Paris, BBC Symphony Orchestra en Mahler Chamber Orchestra, Claudio Abbado, Giovanni Antonini, Jiri Belohlavek, Marek Janowski, Mariss Jansons, James Levine en Sakari Oramo.
Isabelle Faust is vertrouwd met repertoire uit alle stijlperiodes. Ze voelt zich in Beethovens vioolconcert met Concerto Köln onder David Stern net zo thuis als in eigentijdse werken van Morton Feldman, György Ligeti en Giacinto Scelsi. De reeks premières, die begon met het voolconcert van Werner Egk, de Fantasie van Messiaen en aan haar opgedragen composities van Jörg Widmann, werd in seizoen 2009/10 met de concerten van Michael Jarrell en Thomas Larcher – onder meer in de NPS Zaterdag Matinee- voortgezet.
Met evenveel enthousiasme wijdt Isabelle Faust zich aan de kamermuziek tijdens recital tournees en op internationale kamermuziek festivals. Ze werkt regelmatig samen met partners als Alexander Melnikov, Christian Tetzlaff, Tabea Zimmermann, Steven Isserlis, Teunis van der Zwart, Jean-Guihen Queyras en Alexander Lonquich.
Haar -veelal bekroonde- cd opnamen reiken van Bach tot Hartmann en omvatten vioolconcerten van Haydn en Bach en de complete werken voor viool en piano van Bartók, Fauré, Schubert en Schumann. In de afgelopen jaren bracht harmonia mundi cd's uit met de vioolconcerten van Dvorak, Beethoven, Martinu, Jolivet en Poème van Chausson. Met haar vaste duopartner Alexander Melnikov legde ze werken van Brahms vast op cd, terwijl in 2009 de complete viool-piano sonates van Beethoven werden uitgebracht. Afgelopen 1 oktober ontvingen zij hiervoor een Gramophone Award 2010.
Van Bachs Partita's en Sonates voor viool solo verscheen de eerste cd –inmiddels onderscheiden met de Diapason d'Or Arte- in het voorjaar van 2010.
"Vurig hopen we dat de rest volgt…" schreef  Het Parool.
"….Dit is een van de mooiste opnamen die er van de sonates en partita's te vinden zijn."
Isabelle Faust speelt op de 'Doornroosje' Stradivari uit 1704, vriendelijk in bruikleen gegeven door de L-Bank Baden Württemberg.